The Manuka Marula anti-aging care from Ecolline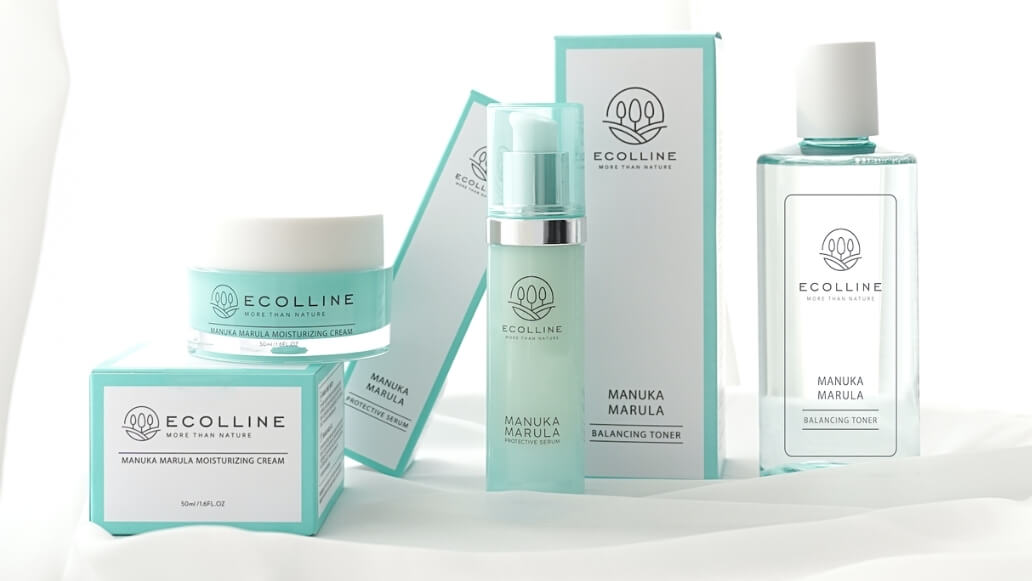 WORTH THE HYPE:
THE ANTI-AGING CARE SERIES "MANUKA MARULA"
AN INNOVATIVE INGREDIENTS COCKTAIL WITH PROVEN
SKINCARE CLASSICS & NEW HYPED TREND INGREDIENTS
You don't ask a woman her age - they say. You don't usually have to, because if you look closely at a woman's face, you can quickly see her age. The first creases around the eyes usually become noticeable from the age of 35. If you add a pale complexion, redness and pigment spots, then the woman is probably in her forties. If the facial skin is thinner and loses contour in the area of ​​the jaw and chin, then the lady is usually over 50.
But is age really that important or just a number?! We say: It was and is not age that characterizes a woman, but how she deals with it. Eating healthy and exercising keeps your body and mind fit. Additional care with effective products and their regular use is a good strategy to look as young as you feel for as long as possible. That's why women shouldn't stress about the number of years they have lived, but face the coming years calmly. We have something that helps a lot with that: ecolline's Manuka Marula series products.
The special thing about this innovative care series from the Korean Clean Beauty brand is the interaction of the active ingredients used. Also excellent: Instead of water, ecolline uses double-distilled chamomile flower hydrolate for cream, serum and toner. We explain the advantages and benefits of this and the other high-quality ingredients.
Twice distilled chamomile flower hydrolate
Chamomile flower hydrolate forms the basis of serum, toner and cream. It acts as a solvent for the other active ingredients - just like distilled water does. However, the chamomile flower hydrolate contains valuable active ingredients for the skin that have a calming and anti-inflammatory effect. It is also an accelerator for the other active ingredients in the cream. Water, on the other hand, has no positive effect on the skin.
Marula oil
A little treasure: the valuable oil is extracted from the fruits of the elephant tree. This tree species only grows in South Africa. Marula oil is rich in antioxidants, polyunsaturated fatty acids and vitamin E. This makes it a perfect partner against wrinkles and dull skin. It immediately gives a beautiful glow and smoothes.
Manuka honey
The exclusive active ingredient, which can only be obtained in New Zealand from the nectar of the South Sea myrtle bush, has im Compared to conventional honey, it has an extremely high methylglyoxal content. It has been proven to reduce inflammation, improve skin elasticity and moisturize and help bind it. Another plus: It activates the skin's own production of antioxidant enzymes, so the skin stays youthful for longer. Manuka honey is currently one of the most hyped active ingredients in the beauty scene.
lavender oil
lavender oil has an antiseptic and anti-inflammatory effect. It reduces redness and soothes stressed skin. In addition, it stimulates cell renewal.
Adenosine
Adenosine is one of the body's own nucleosides and is considered a highly potent anti-aging agent. Adenosine has the ability to penetrate deep into the skin and promote the skin's own production of collagen and elastin. This makes the skin firmer, denser and plumper.
Macadamia oil
The nutrient-rich nut oil provides the skin with important fats and moisture and helps it to store them. It lies on the skin like a thin protective film and thus prevents dehydration. It also ensures a beautiful glow.
Argan oil
Similar to macadamia oil, argan oil from Morocco is a popular and effective ingredient in facial care. It contains antioxidants and essential fatty acids as well as vitamin E. Super: It not only has a firming effect, but also has an antibacterial effect on blemishes.
Glycerin
Glycerin hydrates dry skin and has the ability to bind moisture and thus protect against skin dehydration. In combination with the valuable nut oils, it ensures a healthy, nourished, glowy complexion.
WE LOVE!
The care series "Marula-Manuka" from ecolline with its main actors and other nut oils is richly nourishing for a mature, dehydrated and thinning skin Skin. Whether toner, serum or cream: the products supply and care for the skin with the fats, moisture, antioxidants and nutrients it needs for 24 hours. These also boost the skin's own collagen/elastin production so that the skin regains its firmness. The care products also prevent skin aging. The texture is pleasant, absorbs quickly and, despite the high proportion of nut/vegetable oils, does not leave a greasy film. All herbal ingredients are ECOCERT & USDA certified, the range is vegan and free of mineral oil, artificial colors, artificial fragrances, silicone, polyacrylamides and parabens. In short: A good investment for a relaxed aging process.

DISCOVER THE MANUKA MARULA
CARE SERIES BY ecolline