Anti-aging thanks to anti-glycation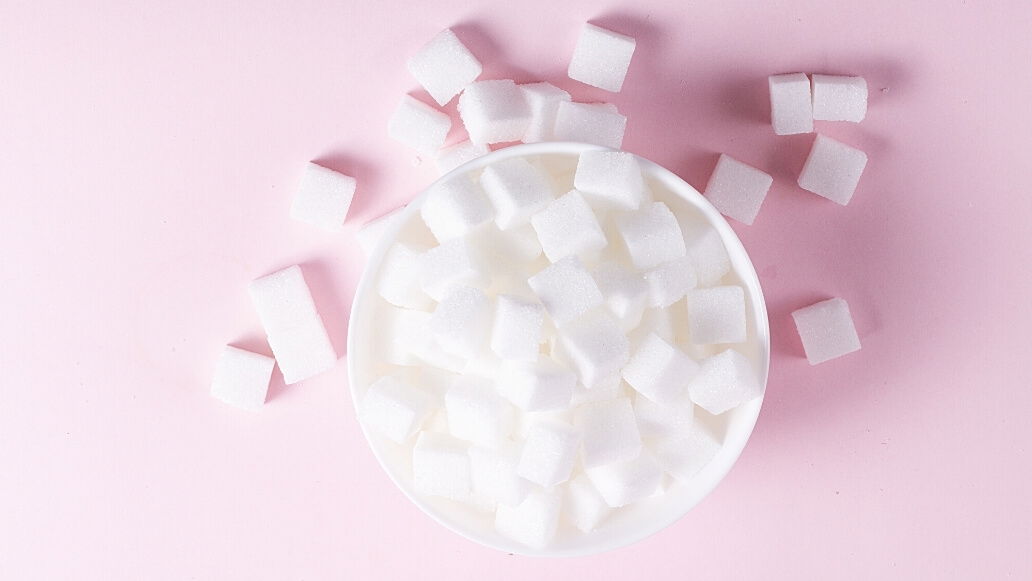 GLYCATION: WHEN SUGAR MAKES WRINKLES
. AND WHAT YOU CAN DO ABOUT IT
It is a fact that a healthy diet has a positive effect on the complexion. If you drink plenty of water and eat lots of nutrient-rich foods, you can look forward to firmer and smoother skin. But we all have our "little vices": For some it's a glass of wine in the evening, for others it's a cigarette in between and for many it's snacking on a whim. Although sugar tastes good and encourages the brain to release happiness hormones, it is very unhealthy - also for the complexion.
SUGAR MAKES SKIN LOOK OLD
Do you eat too much sugar (e.g. B glucose and fructose) glycation occurs. Glycation describes the "saccharification" or "caramelization" of the tissue fibers of the skin. It has a negative effect on the skin's own collagen and elastin. The result: the skin loses elasticity, resilience and firmness, ages faster and wrinkles appear. Dryness, lacking glow and a thinner skin barrier can also be symptoms of glycation.
According to research results, glycation is one of the main factors in skin aging from the age of 30. Age. In addition to a conscious and low-sugar diet, the right skin care can help against glycation.
WITH PLANT FERMENTS AGAINST GLYCATION
The products of the Japanese luxury brand AG Theory deliver good results. The aim of the highly effective skin care is to prevent and minimize skin damage caused by glycation. The use of a patented plant-based active ingredient complex with horse chestnut ferment, plantain seed extract and creeping saxifrage extract keeps the skin fresh and young for longer. How does that work? The horse chestnut ferment contains saponin, a flavonoid glycoside with an antioxidant and blood circulation-promoting effect. It helps reduce sugar levels in the skin caused by glycation. The plantain seed extract stimulates the skin's own production of collagen and elastin. Creeping Saxifrage Extract optimizes skin firmness and complexion evenness. Additional highly concentrated hyaluronic acid and multi-ceramides keep the skin barrier intact. While the hyaluronic acid provides moisture and helps the skin to bind it, multi-ceramides protect the skin from drying out and from harmful environmental irritants from the outside.
NANO TECHNOLOGIE FOR MAXIMUM EFFECT
AG Theory has launched a high-impact anti-glycation routine with three products. Both the serum lotion, the emulsion and the gel mask for the night of the Japanese label are made with the help of nano-technologyOGIe. The advantage of this method is that the skin can optimally and maximally absorb the active ingredients. With the help of a special high-pressure homogenizer, 90 percent of the ingredients are microgranulated to a size of 50 to 100 nm, which significantly increases the effectiveness. Important to know: AG Theory does not use any silicone, artificial fragrances or dyes.

NO CHANCE FOR GLYCATION:
THE HEROES AGAINST SKIN SUGAR